Market Analysis: Even Fredriksen, Marine Harvest Owner has/will sell Marine Harvest Shares.
See:
http://seekingalpha.com/article/3975235-marine-harvest-sell-fredriksens-soon-expire-salmon.
"1. Marine Harvest, the bellwether of the global salmon farming industry, has successfully played an unsustainable dividend payout game to please its institutional owners and keep its share price up.
2. With a steep valuation after a multi-year rally, this stock is ripe for a correction. This article will argue why readers should be (short-)selling Marine Harvest at current levels.
3. Bulls are right in that salmon farming constitutes a promising source of food production for the future. The industry is supported by steadily growing demand and R&D improvements.
4. However, salmon farming is still farming. And farming means a commodity business where Mother Nature will offer challenges along the way, in the case of salmon: biological and environmental issues.
5.
Major shareholder John "Viking Raider" Fredriksen and insiders cast their vote by cutting their holdings.
Further operational problems or a cyclical salmon market downturn will eventually push this stock down."
So, even the owner of Marine Harvest, John Fredriksen has been and will be selling stock in his own company, to make money out of its Bust.
But there is more:
"Introduction: Highly correlated to a volatile salmon price
This article will discuss why the stock market valuation of Norway-based salmon farming giant
Marine Harvest MHG
is ripe for a major correction.
It all boils down to investor overconfidence in the robustness of MHG's line of business and associated cash flows. The stock promoters of MHG and the salmon farming sector continue to talk about
further industry consolidation potential
as a
returns to scale play
. Combined with a salmon price that has been on a tear of late even in strong USD terms (and more so in weak Norwegian kroner terms) MHG and the sector have risen to multi-year valuation peak levels. In USD terms, MHG's share price is up over 300 percent since last bottoming out 4.5 years ago in late 2011 (unadjusted for dividends).
If we let recent history serve as a probabilistic guide for what to expect from MHG and Norwegian salmon farming going forward we could just go back 10 years and compare the Norwegian salmon export price, in USD, with MHG's USD share price."
There is actually much more technical analysis on the coming crunch of Marine Harvest, but the point is that its share price is over valued, and has come to be closely tied to salmon prices - take a look at the graph comparing the two. The recent tear has come from Chile's disaster with algal blooms, killing 25 million farmed salmon, and ironically boosting prices, including MH that operates in Chile.
You will recall scientists saying an El Nino, fish farm sewage and dumping more than 75,000 metric tonnes of dead salmon at sea are the likely causes of the bloom and resultant kill off.
Here are the harvest figures, Marine Harvest operating in: Belgium, Canada, Chile, France, the Faroes, Ireland, the Netherlands, Norway, Poland, Scotland and the U.S.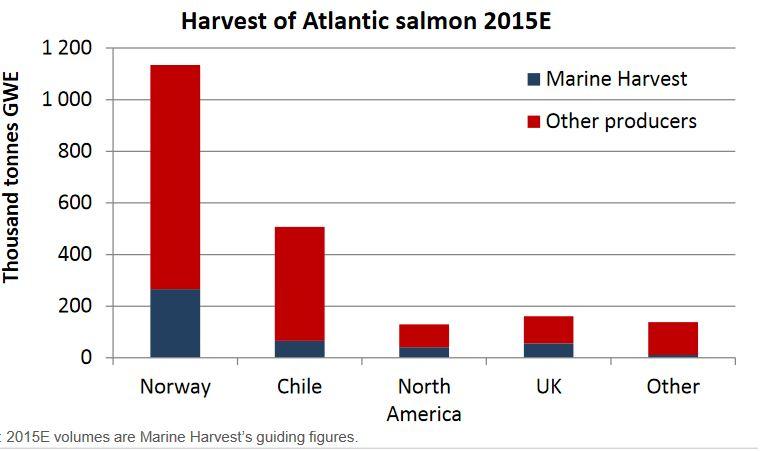 Because of its size, Marine Harvest dominates world Atlantic salmon harvests. But going forward, the long term growth of 6% per year, is going to slow to 3% until 2020, as in a very long time.
And there is this nagging problem of high dividends versus low cash flow and profit:
"
MHG has chosen to keep its shareholders short-term happy by paying out too high dividends in relation to its operating profitability and cash flow
."
And here is some of what Fredriksen owns:
"Apart from MHG, Fredriksen is currently a major shareholder in a number of U.S. listed shipping groups such as
Golden Ocean (NASDAQ:GOGL),
Frontline (NYSE:FRO)
and
Golar LNG (NASDAQ:GLNG)
plus offshore drilling rig firm
Seadrill (NYSE:SDRL)
and supply vessel company
Deep Sea Supply (OTCPK:DSSPF)
."
This is important because Marine Harvest and the rest of the companies trot out the spin that they are here for local jobs in areas on hard times and revenue for countries. Not so, corporations exist only for shareholders. And Fredriksen is on a higher level, but a trader, so he will sell what will make him money, regardless of the problems for shareholders.
Because the oil sector
Fredriksen
owns has been in dire straits, that is why, in my News Bites post, you find he has sold out huge amounts of shares in his own Marine Harvest, from 26.07% to 17.67%, a third of his holdings. He sold at a high, 37.8 Million shares at 117 NOK or
$548.1 Million USD
.
News Bites post:
http://fishfarmnews.blogspot.ca/2016/05/my-fish-farm-newsbites-post-that.html
In other words Fredriksen believes his own company is over priced and cashed out half a billion dollars of roughly 1.5B USD of his Marine Harvest holdings.
And others at Marine Harvest did the same (also in my News Bites post): "
MHG
chairman Ole-Eirik Lerøy
cut his holdings by 1.1 million shares, or more than a third, to 2.1 million shares and
MHG CEO Alf-Helge Aaarskog
sold off 100,000 shares, corresponding to most of his shareholdings. Aaarskog now holds 38,570 shares and close to 1.7 million options in MHG."
And in Chile MH lost 2.5 million salmon, and laid off 500 workers. Hasta la Vista babies.
So, what do the authors of this analysis (it is as dense, tricky and cynical as you remember Michael Douglas in Anaconda, er, Wall Street) see in Marine Harvest's future? In their own words:
"Salmon farming leader Marine Harvest's current share price is supported by investors chasing a dividend yield of questionable sustainability while potentially underestimating the cyclicality and inherent risks of its commoditized fish farming business."
So, this just keeps on supporting the obvious: that fish farms are a Boom Bust Industry, and with Marine Harvest about to Bust, it's time to sell their shares, just like its owner, Fredriksen.
And don't buy back in until late 2016, to 2017. Just as I was thinking for my billions in shares. How about you?
And Norway itself is doing poorly because it is an oil exporting nation. The central bank has devalued the kroner 30%. This stimulates exports, including salmon, because the price is cheaper to purchasers. Norway unemployment is high, including 30,000 jobs lost in oil.
But the NOK devaluation can't last and when the price rises, all the farmed salmon sector companies will crash, not to mention oil. Shades of Alberta and Canada.
The technical analysis points out that 2016 - 2017 are bad for Marine Harvest shares. And long term salmon growth will halve to 3%, so its dividends (what shareholders really want) are unsustainable.